1kg Himalaya Coffee Beans Dark Roast
ACO
250g Himalaya Coffee Beans Dark Roast
ACO
1kg Himalaya Coffee Beans Medium Roast
ACO
1kg Himalaya Ground Coffee Dark Roast
ACO
250g Himalaya Ground Coffee Dark Roast
ACO
1kg Himalaya Ground Coffee Med Roast
ACO
Himalaya Coffee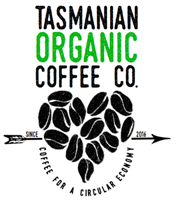 The following is provided by Cyriel van de Winckel from Tasmanian Organic Coffee Co.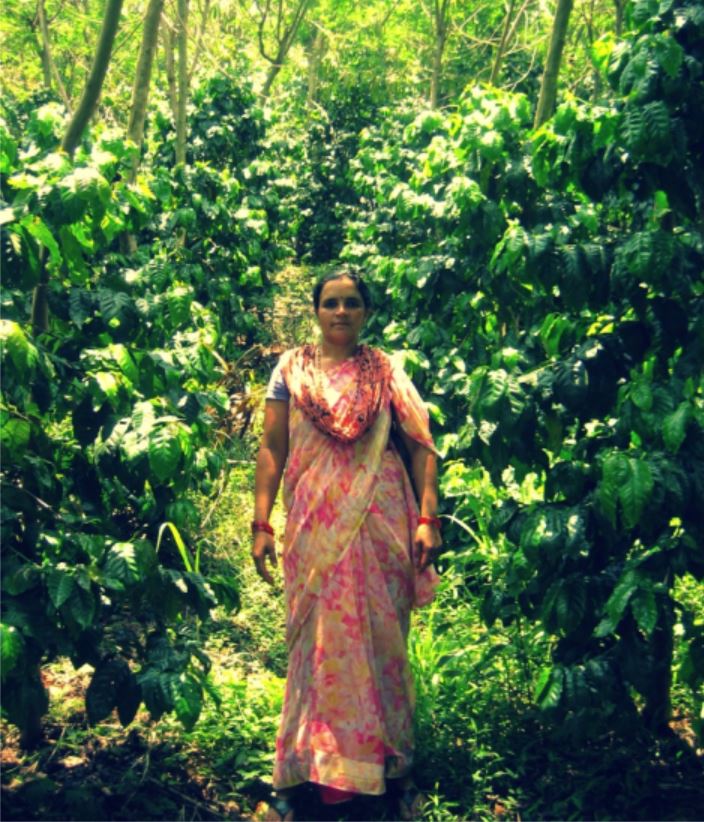 Tasmanian Organic Coffee Co. is the only certified organic coffee roastery in Tasmania. We offer freshly roasted certified organic, single origin, Arabica coffee proudly grown by 60 farmers in Nepal. We sell this as Himalaya Coffee.
History
I have drunk more than 11000 cups of coffee in my life. So you could say coffee has been supporting my life as much as I, through my consumption of coffee, have been supporting a coffee farmer's life. One cup may not make much difference, but every day it adds up.
By roasting coffee and importing beans from these communities myself, I am able to increase the impact (from the 3 cups of coffee a day) I have on sustainable organic coffee production and actually offer all coffee lovers a chance to create positive change in Nepal. And that's what drives me.
It all began 7 years ago when I went to Nepal as a student in tropical forestry and nature conservation. I got to work with small scale coffee farmers whom were growing coffee the natural way below trees. And ever since I left I have been planning to buy their beans as a mechanism for sustainable development.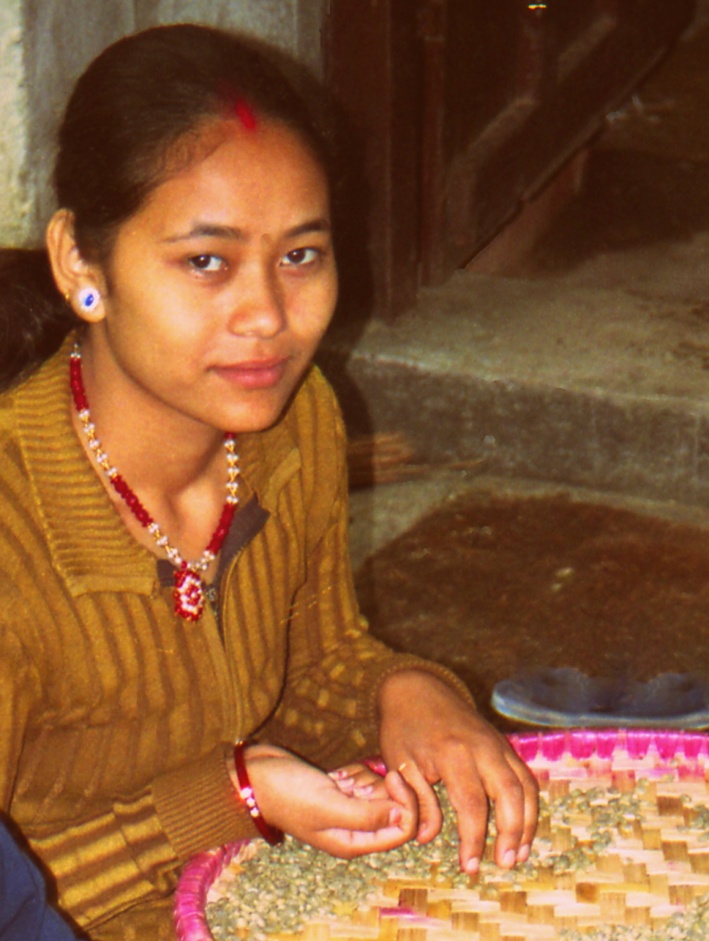 Coffee production
Each farm is completely self sufficient on only 2 ha of land. Coffee forms the understory part of a three level system whereby fruit trees like bananas and mangoes, but also nitrogen fixing trees and native trees form the upper story. They shelter the coffee against extremes of weather and heat and subsequently increase their resistance to pests and disease. Trees provide a microclimate which the coffee plant needs in order to thrive and provide the best quality beans. Trees also support vines and peppers which provide the farmer with food. Crops like maize, rice and sweet potato and other tubers are grown at ground level. A few animals are kept too. They complete the cycle of composting and help bring nutrients back into the soil. The high number of plant species closely mixed together increases the biodiversity of animals and insects. The farm builds up a healthy soil with microbes and bacteria. Combined with organic management these farming practices ensure healthy coffee production does not have to rely on external inputs like chemicals or fertilizers.
So I thought this would be a good thing to support, especially since conventional coffee production on large scale monocultures is struggling with climate change and insect outbreaks.
Because we have direct contact with this cooperative of 60 farmers, Anne and I were able to buy their coffee beans last year, and support farmers to grow coffee with respect for nature and the people living in it.
Coffee roasting at Himalaya Coffee in Sheffield, Tasmania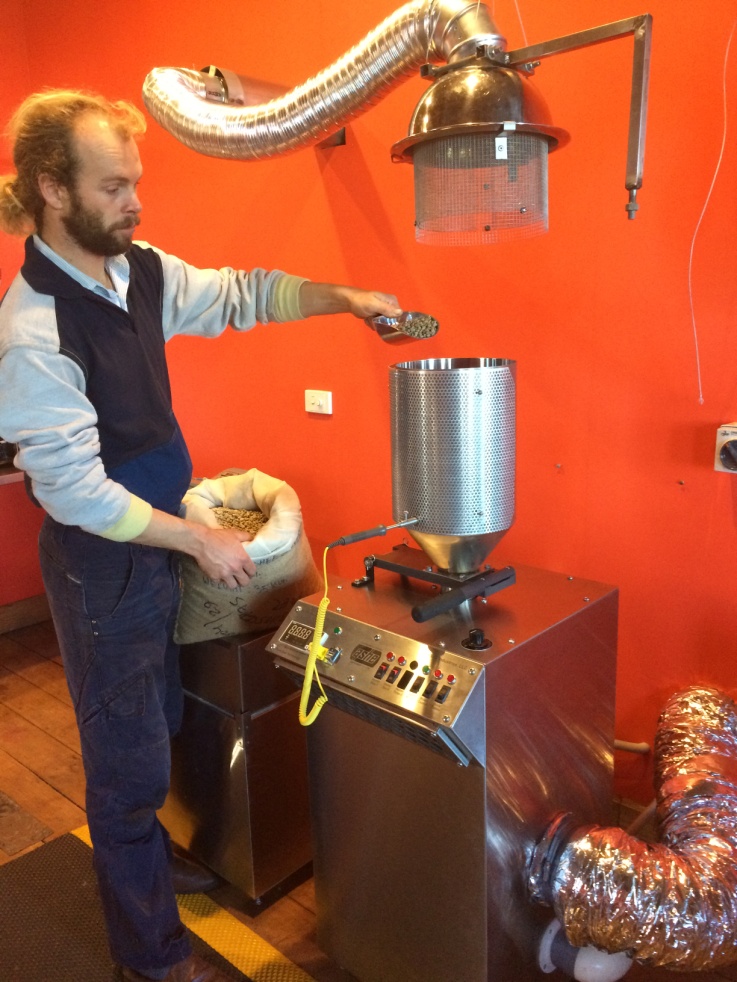 Coffee lovers choose Organic coffee for its flavour and environmental and social credentials. Therefore roasting (and packaging) should also be good for the planet and the people living on it. And that is why we roast Himalaya coffee on a fluid-bed, which floats beans in hot air to create a pure and natural coffee flavour. Because this roaster is all-electric, and does not use gas like most drum roasters, we generate our electricity with 20 solar panels (when there is sun) to make the complete process as sustainable as possible. This roaster also allows us to monitor and finetune the roast using artisan roast profile software.
Drum roasting has been, and still is, a poor way to transfer heat to the bean - Micheal Sivetz (food chemist/engineer). It is harder to roast evenly and prevent contact burning in a drum roaster due to the nature of its design relying on the beans touching a hot surface.
That's why he designed the fluid-bed roaster in 1975 which has no hot surfaces and only uses hot air to produce a very clean roast without flavour contaminations from smoke, or tar deposits on the surface of the beans compared to conventional drum roasters at the time. He came up with a different roasting concept which is more energy efficient and where you can monitor the roast profile without having to take a sample. Helping to enhance the consistency between roasts and provide instant control over flavour development.
Tar and smoke deposits on the beans from scorching/tipping as a result of touching a hot surface for too long in combination with burning chaff (skins) and restricted oxygen availability from combusting gas for generating the roasting heat, increases carbonization compounds which are known to have adverse health effects (subject to level of consumption and degree of roast). It leaves a noticeably dry aftertaste which is why you often get a glass of water with a long black.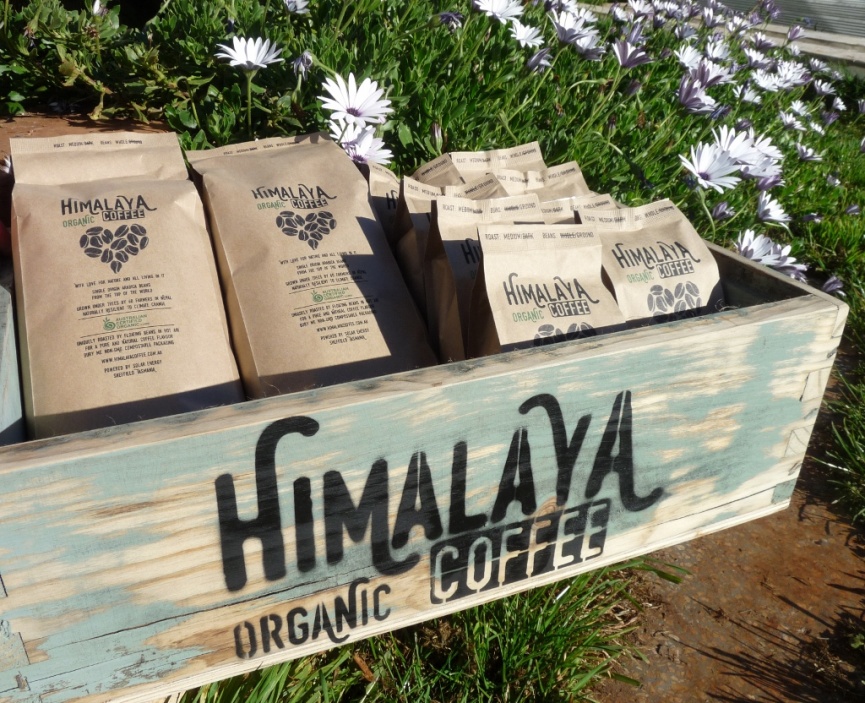 Compostable packaging
After roasting, the beans are stored in steel drums for 24 hours to "cure" and allow the flavour and aroma compounds to stabilize. Subject to order, the beans are bagged in fully compostable triple barrier coffee packaging as the final step on the cycle to a full 'crop to cup' sustainable coffee!
Sustainability
This attention to sustainability and the impact we have on our environment filters through everything we do at Himalaya Coffee. It is fundamental to every decision we make. It includes up-cycling and restoring used espresso machines and grinders and even prevents me from cutting my beard!
And although sustainability requires a bit of creativity and perhaps some patience on gumtree and stubbornness, we are the case in point to prove that sustainability does not have to cost more. All it needs is a bit more thought (and a couple of coffees every now and then)!
Medium or dark?
For most brews incl. filter, plunger and cold-drip, we roast to a medium roast, because further roasting reduces the aroma, sweetness and fruity acidity of the beans. However high pressure extraction with some espresso machines tends to highlight the fruity acidity of the medium roast. Therefore we also offer a slightly darker roast which is less acidic but more bitter and with more body specifically for espresso brews.
For the full story and the farmers behind Himalaya Coffee: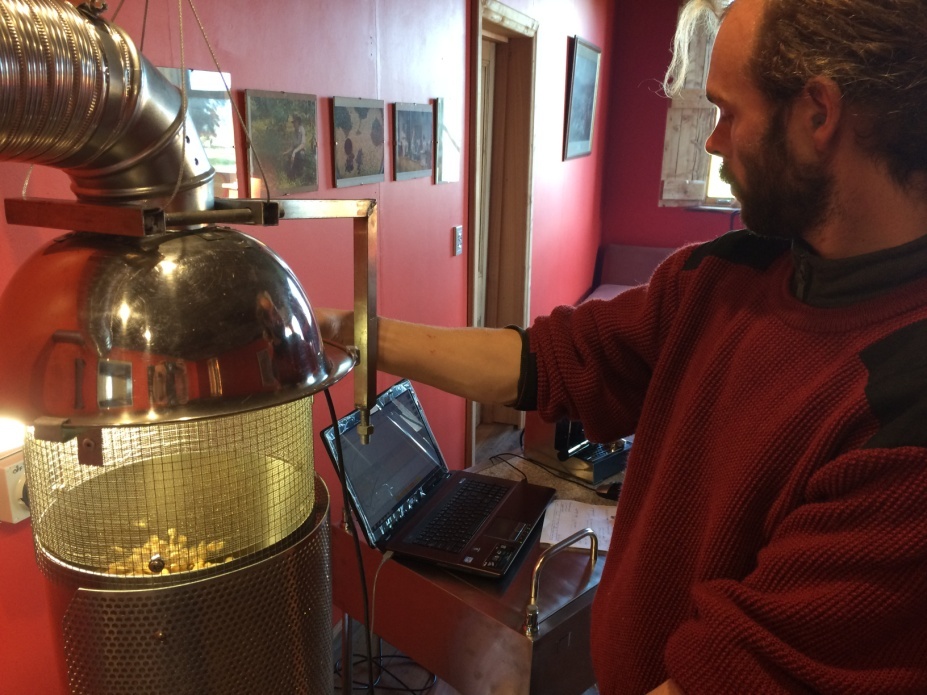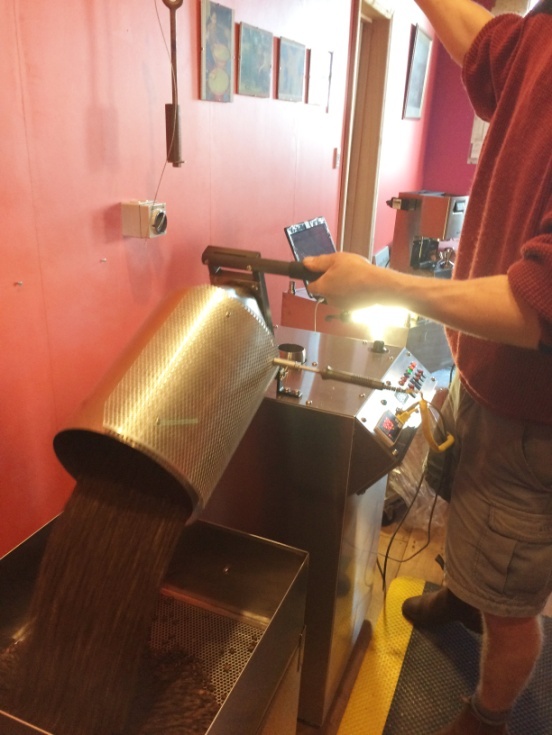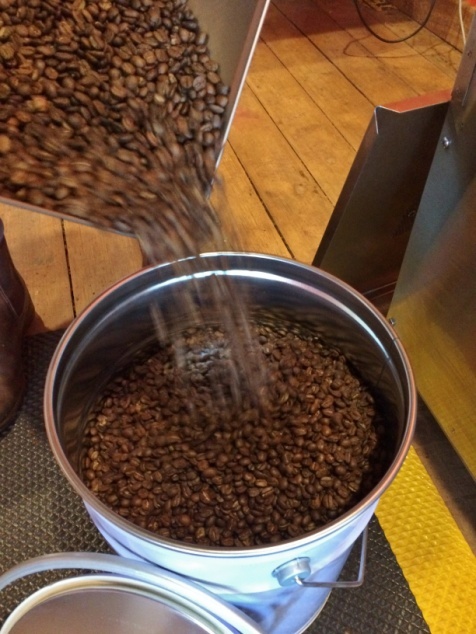 Enjoy in moderation.
Providing excellent products with excellent service