Tasmanian Organic Coffee Co.
---
1kg Dark Roast Coffee Beans - Nepal
ACO
250g Dark Roast Coffee Beans - Nepal
ACO
1kg Dark Roast Coffee Ground - Nepal
ACO
250g Dark Roast Coffee Ground - Nepal
ACO
1kg Medium Roast Coffee Beans - Nepal
ACO
250g Medium Roast Coffee Beans - Nepal
ACO
1kg Medium Roast Coffee Ground - Nepal
ACO
250g Medium Roast Coffee Ground - Nepal
ACO
Tasmanian Organic Coffee Co.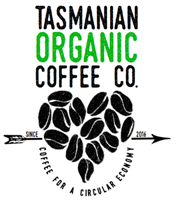 The following is provided by Cyriel van de Winckel from Tasmanian Organic Coffee Co.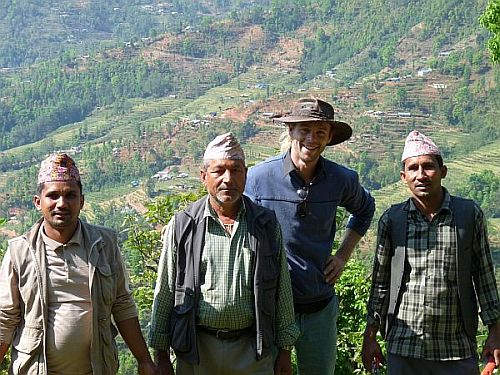 Tasmanian Organic Coffee Co. is the only certified organic coffee roastery in Tasmania. We offer freshly roasted certified organic, single origin, Arabica coffee proudly grown by 60 farmers in Nepal. We sell this as Himalaya Coffee.
Introduction
I have drunk more than 11000 cups of coffee in my life! It takes two coffee farmers with 30 coffee trees each about 7 years to produce that amount of coffee! So it may seem that one cup may not make much difference but when it adds up every coffee you enjoy can contribute to a sustainable coffee future.
As a student in nature conservation I got to work with coffee farmers in Nepal eight years ago. They grow coffee and everything the community needed organically by default! That's why I thought it a good idea to provide access to a market and help encourage more production of certified organic coffee in a microclimate below trees. Because this way of production does not rely on fertilizers or chemicals but instead builds up a balanced closed loop cycle of nutrients in a healthy soil which helps build resilience in poor communities to changes in the weather.
We import every harvest of green beans ourselves directly from the farmers and roast this in our solar powered roaster. The roasted coffee is packaged in home compostable packaging to complete the zero waste closed nutrient cycle the farmers set out in the start!
You can use the economy in a sustainable way and it can start with your coffee today!
Cyriel - bean carer at Tasmanian Organic Coffee Co.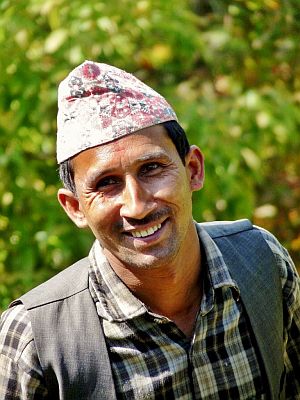 Organic Coffee Farming
Each farm is completely self sufficient in food on only 2 ha of land in everage. Coffee forms the understory part of a three level system whereby fruit trees like bananas and mangoes, and also nitrogen fixing trees and native trees form the upper story. Trees shelter the coffee against extremes in the weather by creating a microclimate which the coffee plant needs in order to thrive and provide the best quality beans.
Trees also support vines and peppers which provide the farmer with food. Crops like maize, rice and sweet potato and other tubers are grown at ground level. A few animals are kept too. They complete the cycle of composting and help bring nutrients back into the soil.
The high number of plant species closely mixed together increases the biodiversity of animals and insects too. And the farm gets to build up a healthy soil with microbes and bacteria. Combined with organic management these farming practices ensure coffee production does not have to rely on external inputs like chemicals or fertilizers.
And that's why this way of farming is the most economically sustainable in the long run, and why these farmers have been doing so by default for generations!
Coffee Roasting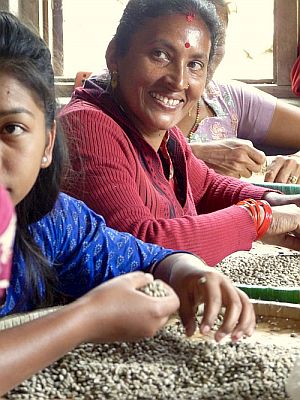 When we offer a certified organic coffee with the best environmental and social performance, the rest of the production process needs to be sustainable too.
That's why we roast coffee in a fluid bed roaster. Because this is the most energy efficient roasting machine and it only uses electricity it allows us to generate that electricity from solar panels (when there is sun). Our roasting facility is situated on a certified organic farm near Sheffield where we jointly purchased 35kw of solar power! This is plenty to operate our entire roasting facility and espresso equipment workshop.
Thanks to our earliest supporters in 2016 (whom paid for coffee in advance) we were able to partly crowdfund this roaster and import it from California.
The fluid-bed roaster is also the cleanest way to roast coffee beans because there are no hot surfaces which the beans need to be in contact with in order to roast. Instead the beans float in hot air only and this allows the beans to circulate up and down throughout the roasting chamber in a very even and consistent way. This makes it very simple to operate and monitor and finetune using artisan roast profile software.
This roaster was invented in 1975 by Micheal Sivetz (food chemist/engineer) whom thought the conventional way of roasting by using a gas flame heated drum, was and still is a poor way to transfer heat to the bean. It is harder to roast evenly and prevent contact burning in a drum roaster due to the nature of its design relying on the beans touching a hot surface. Because the fluid-bed has no hot surfaces and only uses hot air, it produces a very clean and natural roast without flavour contaminations from smoke, or tar deposits on the surface of the beans compared to conventional drum roasters at the time. He came up with a different roasting concept which is more energy efficient and where you can monitor the roast profile without having to take a sample. Helping to enhance the consistency between roasts and provide instant control over flavour development.
Tar and smoke deposits on the beans from scorching/tipping as a result of touching a hot surface for too long in combination with burning chaff (skins) and restricted oxygen availability from combusting gas for generating the roasting heat, increases carbonization compounds which are known to have adverse health effects (subject to level of consumption and degree of roast). It leaves a noticeably dry aftertaste which is why you often get a glass of water with a long black.
Over the years we have heavily modified our fluid-bed roaster to capture the hot exhaust air and use this in a heat exchanger to pre-heat the cold input air. This makes the roasting process even more energy efficient!
Compostable packaging
After roasting, the beans are stored in steel drums for 24 hours to "cure" and allow the flavour and aroma compounds to stabilize. Subject to order, the beans are bagged in home compostable triple barrier coffee packaging as the final step to a full 'crop to cup' sustainable coffee!
Brewing Advice
It is up to personal preference and particularly the dosage to determine how strong a coffee should be. 15 to 20g or about a table spoon per cup is ideal. And however strong you like it, our coffee should never end up being bitter and unpleasant due to it being an organically grown single origin Arabica and due to the natural roasting process.
Remember never to use boiling water as this allows oils to evaporate before they can be extracted and enjoyed. So aim for around the 90 degrees, just off boiling.
For most home brewing methods (filter, plunger, stove pot and cold-drip), we roast to a medium roast, because further roasting reduces the natural aroma, sweetness and fruity flavours of the beans.
High pressure extraction with some espresso machines tends to highlight the fruity flavours of the medium roast in not a great way. Therefore we also offer a slightly darker roast which has more body and is therefore able to withstand this type of extraction better.
Sustainability
There is no point being sustainable if nobody can afford it, right? The farmers rather sell more volume to more people than less volume to less people. And we are here for Tasmanians whom like to have a beautiful coffee and make their purchase a positive contribution to the world.
Being environmentally and socially sustainable and being viable as a business at the same time is actually not that hard! It just requires a bit more creativity and planning and usually involves time rather than money...
Tasmanian organic coffee co is fully powered by solar energy (see section on roasting for more).
A friend of ours does natural beekeeping in warre hives and he has situated about 10 hives at our office and roasting site, which is a great way to help pollination and insect activity in the local environment.
The roast facility is situated in a hundred year old granary farm building, which we've converted to commercial kitchen standards by using recycled and up-cycled stainless steel benches and shelves from the local scrap yard. Second hand espresso equipment is refurbished and upgraded to current performance requirements in our workshop ready for lease to cafe's and shops. And we restored a 60 year old land rover and converted it into our coffee van!
To be able to use the market as a mechanism for sustainable development, and to allow coffee drinkers to encourage resilience in coffee producing communities in the sub tropics in the face of uncertain economic and climatic conditions, is very rewarding. And that's why we do it!
Medium or dark?
For most brews incl. filter, plunger and cold-drip, we roast to a medium roast, because further roasting reduces the aroma, sweetness and fruity acidity of the beans. However high pressure extraction with some espresso machines tends to highlight the fruity acidity of the medium roast. Therefore we also offer a slightly darker roast which is less acidic but more bitter and with more body specifically for espresso brews.
For the full story and the farmers behind Himalaya Coffee: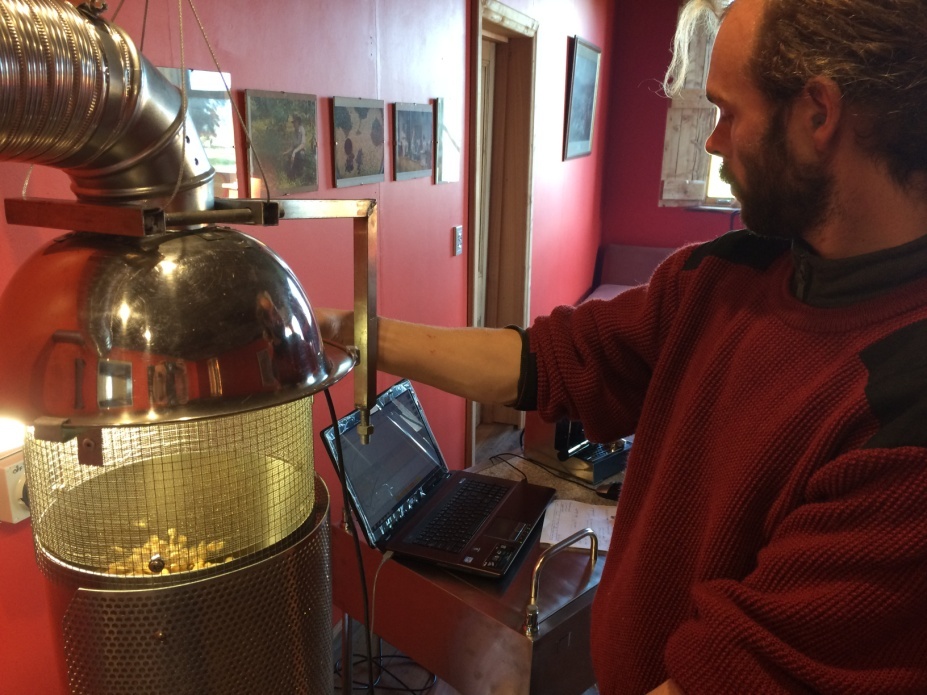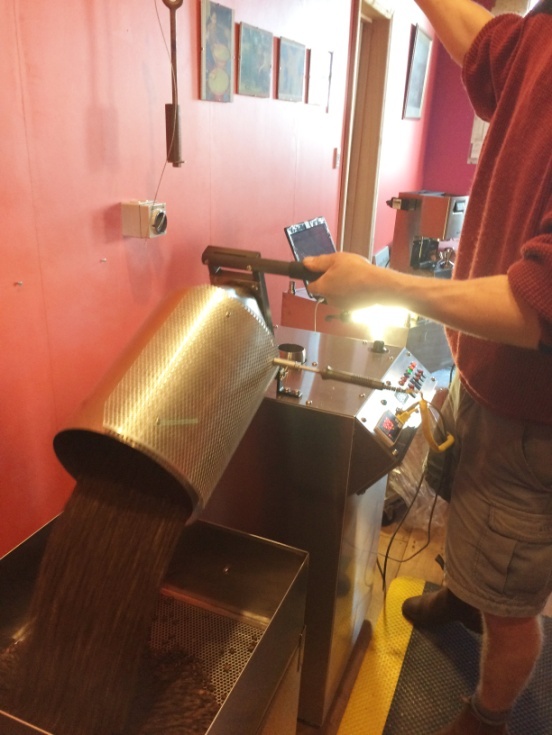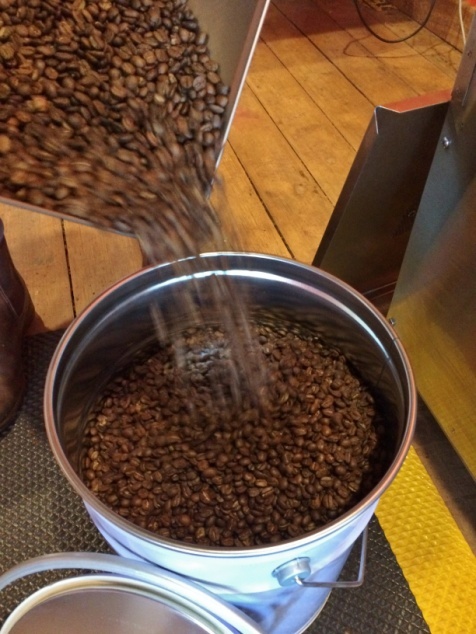 Enjoy in moderation.
Providing excellent products with excellent service