Several years ago the owner of one of the shops we supply gave us this recipe for a healthy, sugar-free, vegan Christmas cake which we have enjoyed every year since then. It is easy to make and tastes delicious. Makes 1 large cake (2 kg)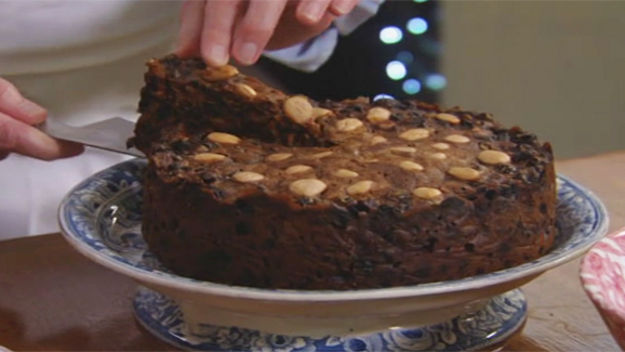 Ingredients
150g natural currants
200g natural sultanas
200g dried apricots
1 cup wholemeal flour
1 cup wholemeal self-raising flour
200g sun-dried pitted dates, diced
200g dehydrated pineapple pieces
2 cups pure water
3/4 cup coconut oil (either virgin or tasteless)
2 large very ripe bananas
1/4 cup chopped almond kernels
Whole or halved blanched almonds or pecan halves for decorating the top
Instructions
Pre-soak the currants, sultanas, and apricots in the water for at least two hours.
Preheat oven to 135ºC (275ºF)
In a large mixing bowl, mix the flours with the dates, pineapple and chopped almonds.
Drain the excess water from the pre-soaked fruit; retain 3/4 cup for use.
Add the pre-soaked fruit to the mixture in the mixing bowl.
Blend together the water, oil and bananas until smooth (half full speed for a quarter of a minute).
Pour the blended liquid into the mixing bowl with the fruit and flour and thoroughly mix in.
Brush a little oil over the inside surfaces of a 20~cm-square cake tin (or line with baking paper).
Pack the mixture into the tin, ensuring that no air pockets remain.
Decorate the top of the mixture with the the almonds or pecans.
Lightly brush a little oil over top of mixture.
Cover top with baking paper.
Bake in the oven until cooked through (about 2 to 3 hours, depending on depth of tin - test with a skewer).
Providing excellent products with excellent service