Sweet Potato, Lentil and Rosemary Soup
---
Dearna from To her core is teaming up with Bio-Distributors over the next little while to bring you healthy recipes through our newsletters and on our web page. To her core is a celebration of how a holistic lifestyle including wholesome food nourishes the body from the inside out. We are looking forward to working with her over the coming months to bring you seasonal delights (In the meantime feel free to check out her blog).
This is the first of her recipes we are featuring.
Sweet Potato, Lentil and Rosemary Soup with Charred Corn
1 large onion, diced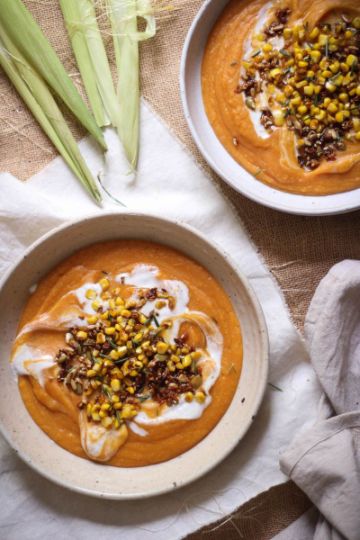 2 garlic cloves, finely chopped
1 Tbsp olive oil
1/2 Tbsp minced rosemary
1/2 Tbsp smoked paprika
1 cup red lentils, washed
1 large sweet potato, peeled and roughly chopped
1 large carrot, peeled and roughly chopped
4 cups vegetable stock
1 cup water
3 cobs corn, kernels removed (or 1 cup frozen corn kernels)
2 large ripe tomatoes, roughly chopped
Coconut cream, to serve
Chopped fresh rosemary, to serve
Savoury Seed Granola, or toasted mixed seeds, to serve
Instructions
Heat the olive oil in a large saucepan over medium heat. Add the onion and garlic and fry a few minutes until the onion starts to soften and become translucent and then add the rosemary and paprika. Stir well to coat, another minute or so.
Add the lentils, sweet potato and carrot and stir to coat and then pour in the liquid, stirring to combine. Bring to a simmer and then cook for 15 minutes. Add half the corn and the tomatoes, and cook another 15 minutes.
Remove from heat and allow to cool slightly.
In the mean time, heat a skillet over high heat. Once hot, add the corn kernels, and cook, stirring occasionally until they start to brown on the outside. Make sure to watch the whole time to ensure they don't burn.
Using either a blender or hand blender, puree the soup, and then serve hot topped with the corn, coconut cream, fresh rosemary and the savoury granola.
Notes
You could chargrill the corn on the cob instead here by cooking the shucked corn over a flame (ie on the BBQ grill) for 10 minutes or so, until the edges are charred with a wonderfully nutty aroma.
Providing excellent products with excellent service