Black Himalayan Crystal Salt - Kala Namak
---
ItemCertification
Size
Price

Qty

Himalayan Black Salt - Kala Namak (Pakistan)

25kg

$73.80

4.5kg



$18.25

950g
Special 15% off*


$6.30
Black Himalayan Crystal Salt - Kala Namak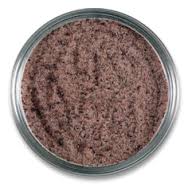 Black Salt (also known as Kala Namak) is a special type of rock salt mined from the volcanic regions of Pakistan and India. It is actually purple-ish/pinkish grey rather than black and has a very distinctive sulfurous mineral taste, rather like hard boiled egg yolks.
Black Salt is used in Indian cuisine as a condiment and adds its distictive flavour to tangy fresh salads called 'chaats', and also in fresh chutneys, snacks, pickles, raitas (yogurt-based salads) and many other savoury Indian items. It is sometimes used to flavour tall summer cool drinks like the famous cumin-scented Jal Jeera.
According to India's classical medical science, Ayurveda, black salt is full of therapeutic benefits. It is rich in iron, and is said to be a cure for flatulence and heartburn.
Providing excellent products with excellent service