Due to current and projected shortages of certain items we reserve the right to limit quantities ordered.
Retail prices.
Tradewinds Ceylon Tea
---
ItemCertification
Size
Price

Qty

Loose Leaf Black Tea (India)

ACO

1kg

$34.45

Loose Leaf Black Tea - Assam (India)

ACO

1kg

$36.60

Sri Lankan Loose Black Tea

NAS

3kg

$111.70

Sri Lankan Loose Black Tea

NAS

200g

$8.65
Tradewinds Ceylon Tea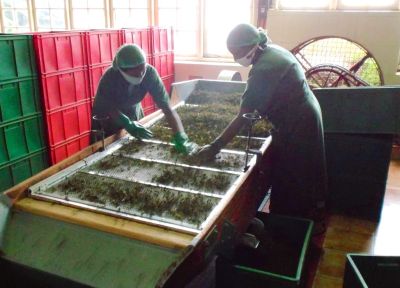 This single origin, biodynamic tea from our Teas of Integrity range, directly supports the Idulgashinna Organic Bio-tea Estate in Sri Lanka. The cool, slow ripening conditions of our Ceylon Organic high grown tea, create the renowned quality of this region. This is a Broken Orange Pekoe (BOP), with a well twisted curly leaf. Packed in handwoven baskets from a community development project using women's traditional weaving skills. Store in a cool, dry place.
Teas of Integrity Producer Information
Idulgashinna Organic Bio Tea Estate – In 1987 this became the first certified organic tea garden in the world, and Tradewinds was proud to begin importing this unique tea, and provided additional support to the Idulgashinna social development project when it began in 1992.
The social development program at Idulgashinna continues to involve workers in all aspects of the management of the estate. This is raising the standard of living and improving education and health care. It is a radical departure from conditions on most tea estates, where there is a big gap between the management and workers, and where workers live in very basic conditions with poor access to education and health care.
We are now living in healthy houses with a healthy environment. Mrs WM Nirmala, Social Development Committee
Certification Status
Fairtrade Certified
NASAA Certified Organic
Certified Pure Ceylon Tea
Providing excellent products with excellent service