Jo's Red Kidney Bean, Zucchini and Sweet-corn Stew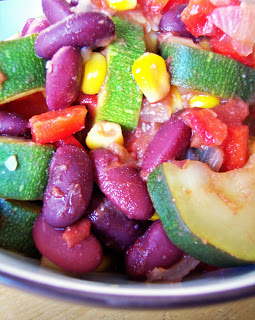 This is a really easy and quick recipe. It is also quite cheap if you have the vegetables growing in the garden.
1 onion - chopped finely
2 cloves garlic - crushed or minced
3-4 medium zucchini's - sliced
1 level tsp ground ginger
1 level tsp cummin
1/2 tsp coriander
1 1/2 cups sweet corn kernels
2 cups cooked (or 1 can) red kidney beans
1 medium red capsicum cut into 1cm cubes
1 can crushed tomatoes
1/2 - 1 tsp sambal oeleck paste (to taste)
Himalayan Crystal salt or unrefined sea salt to taste
Heat a small amount of coconut oil (or water) in a large saucepan and saute onion 5-10mins until soft and transparent.
Add garlic, spices, red capsicum and zucchini and cook for a further 5 minutes.
Add tomatoes, sweetcorn, beans and sambal oeleck.
Simmer for 10-15mins.
Serve over rice, cous cous or quinoa or have on toast like Ric does.
Providing excellent products with excellent service